Display Technology – Top Trends for 2020
Blaze Display Technology Co., Ltd. | Updated: Nov 27, 2018
It is that time of the year again - the time to review the outlook for display industry trends in 2020.
OLED: Increased shares in TV market
OLED TV has secured a strong presence in the premium TV market. LG Electronics is the most successful brand using LG Display's OLED TV panels. Sony, Panasonic, Skyworth, TPV, Hisense, Konka and others have joined in using LG Display's panels. LGD is converting LCD TV capacity to OLED and is also investing an additional 3 trillion KRW into a Gen 10.5 OLED production line, mainly producing >=65-inch TV panels. The company will use the MMG method combining different sizes on one mother glass to improve efficiency and production costs. It is planning to almost double TV panel production in 2020.
BOE, and CSOT are planning to bring in OLED capacity in future years. LG Display is also working on RGB IJP (ink jet printing) technology and presented a paper at Displayweek 2019 with Nanosys about emissive QD display technology.
Samsung Display is building a pilot production facility for QD OLED (with QD Color Convertor) - see the notes later in this article.
New OLED TV technology solutions (RGB OLED, QD OLED,..) combined with printed manufacturing capabilities have the potential to enable lower-cost solutions and higher adoption rate. This year many panel suppliers (JOLED, BOE, CSOT, SDC, AUO) were able to demonstrate inkjet printed (IJP) OLED displays in various conferences and some will start mass production in 2020. First commercialization of soluble OLED panel is expected to be from JOLED's new 5.5 Gen fab with mass production in 2020. IJP can enable higher display performance by enabling top emission large panels; this will facilitate the 8K revolution in OLED TV and increase optical performance.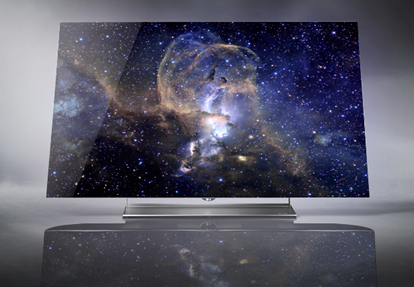 LCD: Continued dominance in TV
LCD TV panel capacity has increased substantially in 2019 mostly due to the expansion in the number of Gen 10.5 fabs. Capacity expansion and higher production combined with weaker demand have resulted in considerable oversupply leading to drastic panel price reductions. Lower panel prices have helped TV set holiday sales by allowing reduced retail prices.
Panel makers are cautious in increasing capacity and that will help to stabilize panel prices. TV vendors are ready to introduce new models. The Tokyo Olympic in 2020 may pull panel demand to be earlier in the year.
Extreme over-supply has led some suppliers such as BOE and CSOT to announce no further investment in LCD capacity. With more aggressive price reductions, 65-inch and above size TVs are expected to take a larger share of the TV market. TV brands are also developing 8K TV +5G ecosystems aggressively with 5G high speed and low latency in transmission. The new 65-inch and higher size TVs will have strong growth in 2020 due to cost reduction.