BDT-T4340-04
Model No. BDT-T4340-04
Outline size(mm): 105.40 x 67.10 x 4.60
Active Area: 95.04 × 53.86
Controller IC: ILI6480H.
Interface: 24BIT RGB
TP: CTP
Backlight:LED
Part Number: BDT-T4340-04
● Display Format: 480 x 272
● Size: 4.3"
● View Direction:12H
● Interface: 24BIT RGB
● Built-in Controller: ILI6480H.
● Control-Board: No
● Brightness(cd/m²): 350
● Frame Through Hole: No
● Touch Screen: CTP
Blaze Display is one of the best China Color TFT LCD Display BDT-T4340-04 manufacturers and suppliers. We are always at your service.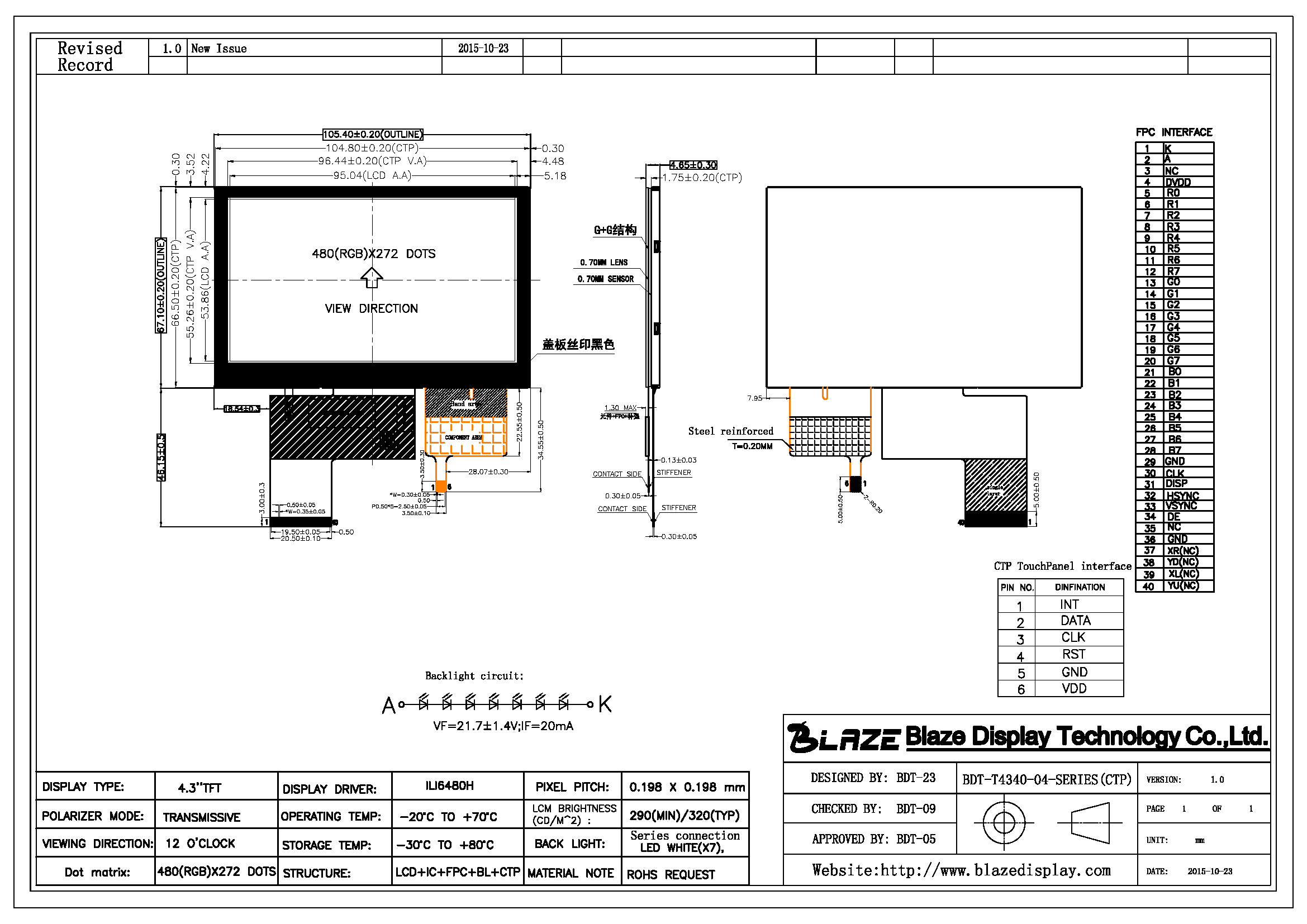 Interface

NO

Symbol

Function

1

K

Power for LED backlight cathode

2

A

Power for LED backlight anode

3

NC

NC

4

DVDD

Power voltage

5~12

R0~R7

Red data

13~20

G0~G7

Green data

21~28

B0~B7

Blue data

29

GND

Power ground

30

DCLK

Pixel clock

31

DISP

Display on/off

32

HSYNC

Horizontal sync signal

33

VSYNC

Vertical sync signal

34

DE

Data enable

35

NC

No connect

36

GND

Power ground

37

NC

NC

38

NC

NC

39

NC

NC

40

NC

NC

1

K

Power for LED backlight cathode

General Specifications

Item

Dimension

Unit

Size

4.3

inch

Dot Matrix

480 × RGB × 272(TFT)

dots

Module dimension

105.40(W) × 67.10(H) × 4.60(D)

mm

Active area

95.04 × 53.86

mm

Dot pitch

0.198 × 0.198

mm

LCD type

TFT, Normally White, Transmissive

View Direction

12 o'clock

Gray Scale Inversion Direction

---

Backlight Type

LED, Normally White

With /Without TP

CTP

Surface&l