BDT-T4340-05
Model No. BDT-T4340-05
Outline size(mm): 105.50 x 67.20 x 5.80
Active Area: 95.04 × 53.86
Controller IC: FAS506.
Interface: 16BIT RGB
TP: Optional
Backlight:LED
Part Number: BDT-T4340-05
● Display Format: 480 x 272
● Size: 4.3"
● View Direction:12H
● Interface: 16BIT RGB
● Built-in Controller: FAS506.
● Control-Board: No
● Brightness(cd/m²): 350
● Frame Through Hole: No
● Touch Screen: Optional
Blaze Display is one of the best China Color TFT LCD Display BDT-T4340-05 manufacturers and suppliers. We are always at your service.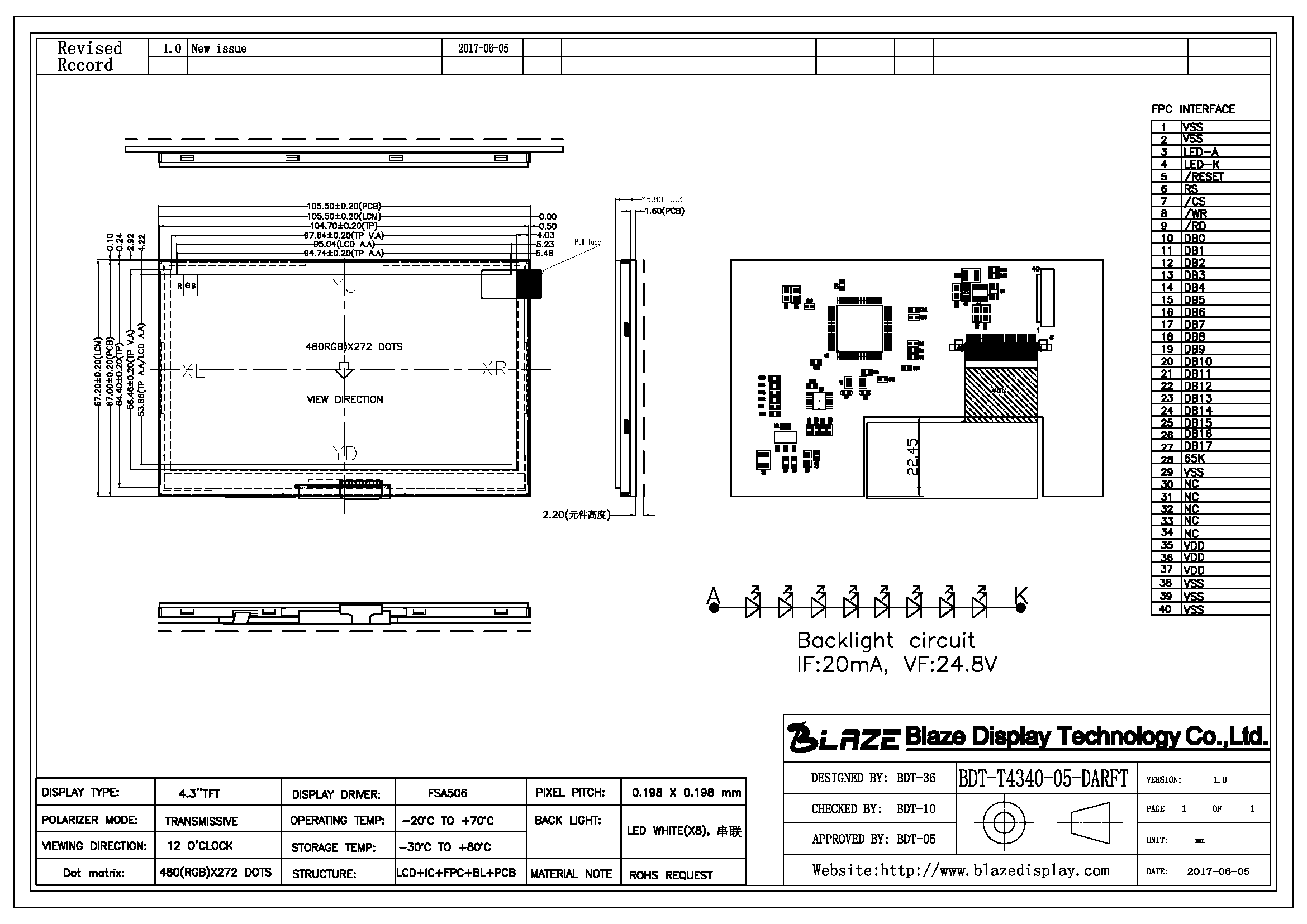 Interface

NO

Symbol

Function

1

VDD

Power input

2

TP_CLK

Clk of touch

3

GND

Power ground

4

TP_CS

Cs of touch

5

LCD_RST

Reset chip of control

6

TP_DATAIN

Data input of touch

7

RD

Read signal

8

TP_DATAOUT

Data out of touch

9

WR

Write signal

10

TP_INT

Pen interrupt of touch, or else not connected

11

CS

Chip select

12

CTP_RST

Reset pin if used CTP

13

RS

Data /command select

14

NC

Not connected

15

DB7

Data bus

16

NC

Not connected

17

DB6

Data bus

18

NC

Not connected

19

DB3

Data bus

20

DB13

Data bus

21

DB5

Data bus

22

DB12

Data bus

23

DB4

Data bus

24

GND

Power ground

25

NC

Not connected

26

DB11

Data bus

27

DB2

Data bus

28

DB10

Data bus

29

DB1

Data bus

30

DB9

Data bus

31

DB0

Data bus

32

DB14

Data bus

33

NC

Not connected

34

DB8

Data bus

35

GND

Power ground

36

GND

Power ground

37

LED_A

Power for VLED backlight anode

38